Gooseberry Patch Recipe #1
I made this dessert for Sunday supper yesterday. It was quick to whip up and no hassles to cook. You just put it in your slow cooker and you are done!
I decided to post my Gooseberry Patch recipe every Monday. Tuesday I am hosting a recipe linky party. I am hoping you can join in on the fun. I would love to see anything you are making in your kitchens. :) It doesn't have to be a Gooseberry Patch recipe but it surely can be!!

1 3/4 cup brown sugar, packed and divided
1/4 cup plus 3 tablespoons baking cocoa, divided
2 teaspoons baking powder
2 tablespoons butter, melted
1/2 teaspoon vanilla extract
Combine flour, one cup brown sugar, 3 tablespoons cocoa, baking powder and salt in a medium bowl. Whisk in milk, butter and vanilla. Spread evenly in a 3 1/2-quart slow cooker. Mix together remaining 3/4 cup brown sugar and 1/4 cup cocoa; sprinkle evenly over top of batter. Pour in hot water; do not stir. Cover and cook on high settings for 2 hours, or until a toothpick inserted one-inch deep comes out clean. Spoon warm cake into bowls; top with vanilla ice cream, if desired. Serves 6
Thanks for stopping and please don't forget to say HI!! :)
I linked up to: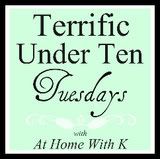 Made from Scratch Tuesday
Two Maids a Milking
Labels: Gooseberry Patch, sweet treats just like Grandma used to make